Cool Car Interior Accessories
From funky style enhancers to fantastic gadgets, accessories are a quick and inexpensive way to add a little extra personality or functionality to your car. You don't have to settle for the run-of-the-mill options, though. There are lots of cool finds out there that will turn heads and give your car an awesome edge.
Awesome Accessories for Adding Personality
There's no reason your car's interior should look just like everyone else's. Fortunately, there are tons of cool aftermarket accessories that can up the wow factor on your vehicle.
Custom Shift Knob
A fun way to add a little personal style to your ride is with a custom shift knob from American Shifter. You can choose from novelty knobs featuring everything from animals to pirates, or you can select a custom-engraved knob with your monogram. Most of the options retail for about $50 or $60 and work on most vehicles.
Solar Power Dancing Flower
Bring some cheer to your vehicle, no matter what season it is. If you love feminine car accessories, you can place this adorable Solar Power Dancing Flower from Gadgets-n-Gizmos on your car's dashboard or in a cup holder. When the sun hits it, the leaves flap back and forth, providing an adorable dancing effect. It's a great conversation piece when you're giving rides to friends. The flower comes in five different colors and retails for about $11.
Under-Dash Lighting Kit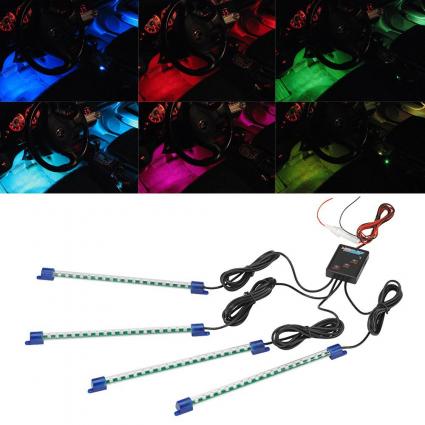 Give your car some extra color with the Under-Dash Lighting Kit from Amazon. This four-piece set comes in seven bright colors and easily installs under the dashboard of your car. When it's on, it provides an eye-catching glow in the foot wells of your vehicle, and you can even select from different lighting patterns like strobe or fade. The set retails for $35.
Colored Gauge Faces
Tired of looking at the same black or silver gauges on your car's dashboard? You can replace them with colored gauge faces from BlackCatCustom.com. These gauge faces are model-specific, and they come in a range of colors, including blue, pink, purple, and yellow. Most retail for between $100 and $150.
Glow in the Dark Steering Wheel Cover
The Chameleon Cover is a silicone steering wheel cover that glows in the dark, giving your car an awesome look after the sun goes down. It comes in five bright neon shades, including blue, green, pink, yellow, and orange. Each cover fits steering wheels from 14 to 16 inches in diameter and retails for about $30.
Cool Accessories for People Who Love Gadgets
Are you a tech lover? If you enjoy cool gadgets, you can find all kinds of impressive options for your car. These accessories will add functionality to your vehicle and impress anyone who sees them.
Vehicle-Mounted Digital Thermometer
Although a lot of newer cars come with an indoor and outdoor thermometer, older models often don't have this useful feature. The Vehicle-Mounted Digital Thermometer from TMart is a really cool way to solve this problem. It displays the temperature inside and outside your car, as well as the humidity, time, and calendar. You simply plug it into your car's 12 V outlet to power it. This device retails for just under $10.
Cooling Seat Pad
It's no fun getting into a hot car, but this handy accessory from Hammacher Schlemmer is the perfect solution. The Cooling Car Seat Pad plugs into your car's 12V outlet and delivers cool temps right away. In winter, you can also set it to heat your seats. It retails for about $150.
Rear View Mirror Video Recorder
If you've ever wanted to capture a video of what goes on inside and outside your car, the Rear View Mirror Video Recorder is the gadget for you. This rearview mirror features a camera with infrared night vision and a microphone for capturing sound. It even has rechargeable batteries, and you can plug it into your 12V outlet. It retails for about $200.
Coleman Powerchill Cooler
Sometimes you want to take your favorite soda or juice on the road or keep snacks cool on a road trip. The Coleman Powerchill Cooler is designed to plug into your vehicle's 12 V outlet and will keep food or drinks cool indefinitely. There's no need to add ice. It retails for about $80.
Drivemotion LED Car Sign
There are times when everyone wishes they could communicate with other drivers, and this car accessory makes that happen. The Drivemotion LED Car Sign uses four AA batteries and sticks to your rear window with a suction cup. It has a remote control you can use from the driver's seat to display messages or faces to the car behind you. This accessory may not be legal in all states, so it's important to check with your local law enforcement. It retails for about $40 to $60, depending on the number of messages and faces you want.
Increase the Cool Factor
You can dramatically up the cool factor your vehicle with a few well-chosen accessories. Whether you love gadgets or want accessories that add style to your ride, your car will be the envy of everyone who rides in it.