If you like the tropical look and want your car to reflect it, you can find lots of sources for Hawaiian car accessories online. Following are some Hawaiian-themed products you can use to surround yourself with the feel of the tropics whenever you get behind the wheel of your car.
Internal Car Accessories
Seat Covers
You can quickly transform your car's interior into a slice of the tropics with Hawaiian seat covers. They come in sizes and styles to fit every vehicle in Hawaiian prints depicting palm trees and tropical flowers.
Floor Mats
You can find Hawaiian floor mats to coordinate with your tropical seat covers to continue your car's Hawaiian theme from top to bottom. Like the seat covers, floor mats can be found in sizes to match most vehicles.
Steering Wheel Covers
Steering wheel covers with a Hawaiian print add a tropical flavor to your car's interior. Some steering wheel covers come as a set with coordinating shoulder belt pads.
Hula Girls
No vehicle's Hawaiian décor would be complete without a hula girl dancing on the dashboard. These dolls come complete with an adhesive on the bottom for easy mounting on your dashboard.
External Car Accessories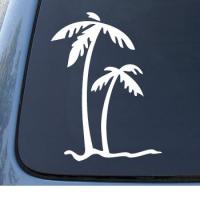 Decals
A sticker or decal is an inexpensive accessory that reflects your interest in the tropics. A decal portraying a Hawaiian theme like a hula dancer, Hawaiian turtle, palm tree, or a tropical flower can add a decorative touch to your vehicle.
License Plate Frames
A license plate frame is another inexpensive item that can give your vehicle some tropical flair. Hawaiian license plate frames come in a range of styles, including tropical flowers, palm trees, leis, and the Hawaiian flag.
Hitch Covers
Hitch covers with a Hawaiian theme are available from several online vendors. These hitch covers are shaped like objects commonly seen in the Hawaiian Islands, such as turtles, tropical flowers, and flip flops. A hitch cover is not merely a decoration, because it helps prevent dirt from collecting in the receiver.
Where to Find Hawaiian Car Accessories
If you don't find what you like in the recommendations above, browse the following retailers that sell a large variety of Hawaiian accessories:
Finding Accessories Locally
If you don't like to order online, you can sometimes find Hawaiian and tropical car accessories at automotive supply stores like AutoZone and department stores with automotive sections like Kmart. To save time and gas, call the stores first to find out if they carry any Hawaiian car accessories.