Vehicles That Seat 8 Passengers
There are times when you need to carry more than the standard five or seven passengers most cars accommodate, and fortunately, there are several vehicles on the market that can seat a large family or transport your child's soccer team. Your choices include minivans, SUVs, and more.
Nine Great Eight-Passenger Vehicles
2014 Toyota Sienna
18 mpg city, 25 mpg highway
Starting at about $30,500 for a trim level with eight-passenger seating
Combining seating for up to eight people with head-turning style isn't always easy, but the Toyota Sienna works hard to accomplish this goal. The driving experience and sleek shape are geared toward adults who want to leave the minivan image in the dust. Standard features include a backup camera, Bluetooth phone capability, three-zone climate control, and more.
The seating configuration is flexible, allowing you to remove the middle seat in the second row, leaving two captain's chairs. You can also fold the seats flat to handle moves and hardware store runs. The base model does not seat eight passengers, but all over trim levels do.
2014 Honda Odyssey
19 mpg city, 28 mpg highway
Starting at about $32,000 for a trim level with seating for eight
The Honda Odyssey pairs unbeatable reliability with comfort and convenience features that will please your family. Although the base model doesn't seat eight people, all other trim levels do. You can choose from a number of options like a rear-seat entertainment package, upgraded audio, and even an integrated vacuum system for cleaning up after everyone.
The seats in the Odyssey can fold flat or split 60/40 to give you room to carry almost anything. The center seat in the second row can fold down to create a console and turn the bench seat into captain's chairs. The third row is roomy enough for older kids.
2014 Chevrolet Suburban
15 mpg city, 21 mpg highway
Starting at $46,300
If you need four-wheel drive, as well as seating for the whole family, the Chevrolet Suburban is a good choice. Features like remote start and a backup camera are standard on all trim levels, and there are lots of great extra options available to keep your family entertained on long trips. In addition, the Suburban has an 8,200-pound towing capacity to bring along anything from your boat to your motor home.
The LT model seats eight people, and the LS can even seat nine. The second row is available with captain's chairs or a bench seat, and the third row bench seat offers convenient 60/40 split folding. There's plenty of leg room in all three seating rows.
2014 Honda Pilot
18 mpg city, 25 mpg highway
Starting at about $29,700
Another great option for large families in need of four-wheel drive is the Honda Pilot. This is Honda's largest SUV, and it's got plenty of room for everyone. There are also lots of neat features like integrated sunshades on the windows, three-zone climate control, and a DVD entertainment system. You can tow up to 4,500 pounds with the Pilot, making it a practical choice for many families. Honda also boasts that the Pilot is the most fuel-efficient eight-passenger SUV on the market.
All trim levels of the Pilot comfortably seat eight adults, and you can configure the three rows in up to 16 different ways. The center middle seat can fold down to create two captain's chairs, and you can also fold the third row seat to haul larger items.
2014 Ford Expedition
14 mpg city, 20 mpg highway
Starting at about $42,000
The Ford Expedition, also available with four-wheel drive, has some amazing convenience features that you just won't find from all other brands. From power-deployed running boards that pop out at the touch of a button to windshield wipers that sense rain, the Expedition is full of useful gadgets. It can also tow up to 9,200 pounds.
Both the base Expedition and the Expedition EL seat up to eight passengers, although you can choose bucket seats instead of a bench seat for the second row if you prefer to seat fewer people. The third row has optional power-fold seats, which means you can hit a button and the seats fold themselves. There are 32 different seating configurations to choose from, allowing you to carry all the people and cargo you want.
2014 Toyota Highlander
20 mpg city, 25 mpg highway
Starting at about $29,200
The Toyota Highlander proves that mid-sized SUVs can also comfortably seat eight people. If you don't want a giant vehicle but you still need to haul the whole family, it's a great choice. Toyota's proven reliability and the optional four-wheel drive add to the practical advantages. There's also an available hybrid model, but that version only seats seven. The Highlander can handle light towing of loads up to 1,500 pounds.
The base model comes standard with seating for eight people, and you can configure the two rear bench seats in a number of different ways. The third row seats even recline to offer comfort on long trips.
2014 Lexus LX570
12 mpg city, 17 mpg highway
Starting at about $82,600
Although there aren't a lot of luxury options for larger families, the Lexus LX570 proves that you don't have to sacrifice comfort features for cargo volume and passenger room. This option includes practical features like a 7,000-pound towing capacity and all-wheel drive, as well as luxurious standard features like a navigation system, leather interior, heated seats, and more. Optional accessories include a DVD system for passengers, heated seats in the second row, a heated steering wheel, an integrated cool box in the console, and many other great choices.
With a power-sliding second row and a power-folding third row, you can configure the bench seats of the LX570 by simply pushing buttons. The many configurations let you haul people and cargo easily and in style.
2014 Ford E-150
13 mpg city, 17 mpg highway
Starting at $28,600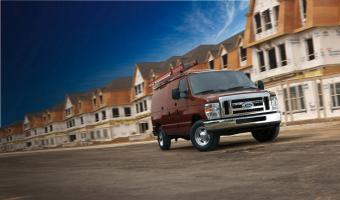 A full-sized van is a nice SUV-alternative for larger families, and the Ford E-150 is a popular choice. All trim levels of the E-150 seat eight people, and there are lots of great features available. There's a DVD and navigation package, as well as a towing package that offers up to 10,000 pounds of towing capacity and extendable mirrors to make it easier to pull a trailer.
You can choose from a second row bench seat or two captain's chairs, and even with all the seats upright, there's enough cargo room for the whole family's luggage.
2014 Nissan NV Passenger
24 mpg city, 25 mpg highway
Starting at about $32,300
Although it's marketed as a commercial van, the Nissan NV Passenger is an excellent choice for larger families. This vehicle seats up to 12 people, which means there's plenty of room for kids' friends or grandparents to come along for the ride. Each seat has heating and cooling vents so everyone will stay comfortable. You can also tow up to 8,700 pounds.
There are three rows of rear seats in the Nissan NV. The seats split and fold for versatility, giving your up to 324 different configurations of passengers and cargo room.
Lots of Excellent Options
Whether you want the luxury features of a Lexus or the utilitarian hauling ability of a Ford van, there are lots of excellent vehicles that seat eight people. Choosing the right one for your family means assessing your priorities and budget and taking a few test drives.